7 June 2019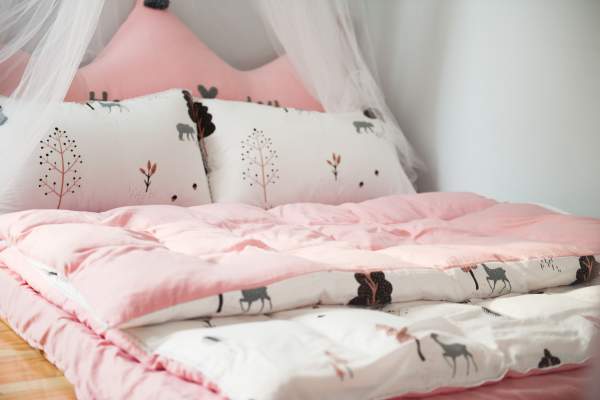 The best bed is the one you want to dive straight into.  Its beautifully dressed, lofty and full and it is accessorised with perfectly plump pillows, a soft throw and a lovely duvet.  But when do we need to replace these key items?
Mattress
When looking to select a quality mattress, think about your age and your body type.  Look for a mattress that will help promote the perfect posture and comfort for you, while also reducing the pressure on your entire body.  The mattress should be constructed from natural materials and not include metals, latex or synthetic fabrics.
A premium mattress should not require maintenance and should not need to be flipped.  A quality mattress should also feature removable breathable covers and should sit on a bed base with quality solid slats that provide good ventilation.
Mattresses should be changed every 7-10 years, this is also for hygiene and health reasons.  Make sure there are no lumps in the pillow top, dead spots in the springs or sleep impressions.
Pillows
When selecting your perfect pillow you should be aware of what your habitual sleep positions are to be able to make the right selection, you may be a back, tummy or side sleeper or a bit of everything. 
Different pillow styles are designed to support your head and neck on how your body will be positioned at night.  If you are a side-sleeper or a larger frame a high loft pillow might be better for you.
A pillow is only as comfortable as what is inside it. If it's microfibre, ensure it is soft, long-stapled and high quality, not cheap, rough polyfill. If the filling is natural fibres like feathers, ensure they are virgin. It means it is animal-friendly and a better quality filling.
Daily plumping is also essential for keeping your pillows in tip-top condition it is effective for ensuring good air flow throughout and keeping fibres soft and supple.
Every 12 months check your pillows for signs of wear and tear. You spend a lot of time in close contact with your pillow, for your own comfort and health it pays to replace them. If they feel flat or lumpy or show signs of holding too much dust, there could be dust mites trapped inside.
Bed Linen
You know you have high-quality bed linen, when it's still the set you want to dress your bed in years after you purchased it.
When purchasing, look for fabrics that will really last.  They need to be good quality and can mix and match well. Always select for the season. I  For long-lasting, dreamy bed linen, be sure to launder mindfully. Bed linen doesn't have a use-by date but it will last a long time if you follow the care instructions.
When the fabric begins to look worn out or threadbare, it's time to be replaced. For longevity, let each set of bed linen rest by rotating it regularly. Each season, add to your collection, but don't throw out your old stuff. Changing it up means it lasts longer and is a great way to refresh the whole look and feel of your bedroom.